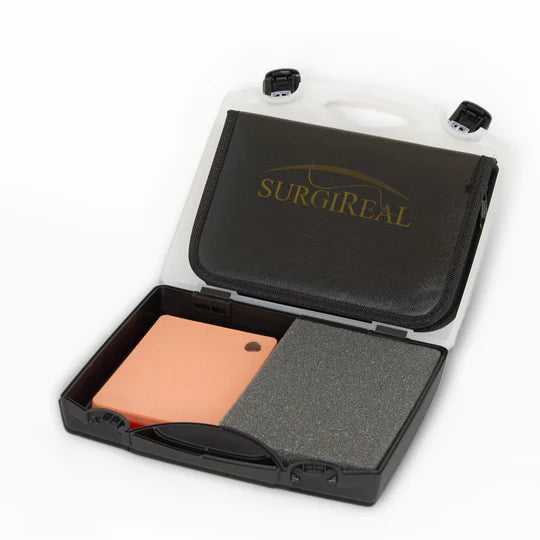 When looking to invest in equipment that will help improve your medical skills, you want something that is both effective and economical. In this blog post, we will answer common questions regarding suture kits that assure that you are getting the most bang for your buck.
WILL THE SUTURE PAD WORK FOR THE TYPE OF SUTURE TECHNIQUES I AM PRACTICING?
Most suture kits are typically only used for superficial suture techniques (simple, simple interrupted, horizontal mattress, etc.). Those types of kits are not equipped for practicing subcuticular sutures or multi-layer closures and will tear and rip very easily if these techniques are attempted. With this deficiency in mind, SurgiReal's 6-Layer suture pad is specifically designed to be fully comprehensive and allow for superficial, subcuticular, and multi-layer closures with life-like differential composition of its layers.
HOW REUSABLE ARE OUR SUTURE PADS
Most suture kits that cost $35-$55 are mass produced overseas and are only reusable once or twice per incision before ripping or tearing. This severely limits the longevity of the pad for further use. Also, practicing on a compromised suture pad can cause one to develop poor suturing habits to accommodate for the lesser-quality pad. The last thing you want to do is to use poor technique on an actual patient. These bad habits must then be unlearned to succeed, and it's much easier to learn correctly the first time.
Using an inferior suture pad can also mean wasted time and money when replacing the pad with a higher quality one. Fortunately, SurgiReal guarantees a minimum of 750 sutures can be placed into their 3-layer kit when practicing superficial sutures and 1,500 sutures on the 6-layer kit when practicing superficial, subcuticular, and multi-layer suturing.
HOW MUCH IS IT ACTUALLY COSTING ME
Granted, you will find some suture kits that cost very little upfront ($35-$55).
Consider what you get with cheaper kits:
Extra cost to replace the kit after the pad quickly degrades

The cost of potentially developing poor suturing technique from practicing on unrealistic materials

The sunk time cost of having to relearn a skill that was learned improperly

The higher cost of wasting sutures from practicing on a poorer pad

Potential cost to your patients if poor technique is used (treatment of infections, scarring, revising an inadequately performed procedure, trips back to the clinic/hospital)
SurgiReal's kits are more of an investment upfront.  However, the cost-per-suture is significantly less than the cheaper kits, and the pad is more realistic and reusable for a better overall student experience.
IS THIS KIT COMPARABLE TO LIVE TISSUE?
Many suture kits are made of a foam pad, which makes it easier to pass a needle and suture through but does not replicate the feel of actual human tissue. Furthermore, some suture kits are made of one uniform chunk of silicone with different "layers" only distinguished by a different color. Again, the feel of transitioning through tissue layers of different consistency (epidermis, dermis, subcutaneous, first fascia, muscle, second fascia) is just not replicated by a single block of silicone. Fortunately, SurgiReal provides different suture pads with 1, 3, or 6 unique layers to practice on that were each created to act and feel like living human tissue. This gives you a more authentic representation before actually practicing a procedure on a live patient.
WHAT IS THE QUALITY OF THE INSTRUMENTS IN THIS KIT?
Many suture instrument sets will come with small 4-inch instruments. These instruments are typically a disposable style with needle drivers that have difficulty holding the needle in place, suture scissors that stick or are too dull to cut precisely, and scalpels that lose their slicing sharpness after a couple of passes. SurgiReal's instruments are full sized (6 inches) and representative of the instruments that medical practitioners use in the clinical setting. The #10 scalpel handle, Adson forceps, suture scissors, and Mayo needle driver are procedural quality.
WHERE DID THE KIT ORIGINATE?
Have you ever noticed how all suture kits on Amazon look the same?  That's because they all come from the same manufacturer in China. The names of the companies selling them might be different, but the kits and the suture pad in them are mass produced the same way with only a different suture pattern. All of SurgiReal's models are hand made in Loveland, CO. Because we make our materials locally, we are not restrained by current supply chain issues like the other companies who rely on materials from overseas.